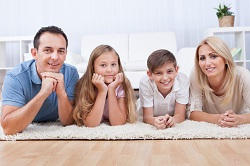 How to Do DIY Upholstery Cleaning
It's exciting when it comes to choosing and purchasing a new sofa or settee and chairs for a room.
But it can be hard for people to know how to care for it properly. Through the thrill of choosing comfort, size and style it can be easy to overlook the cleaning side to it. Though reliable furniture stores will explain how to care for it and give advice on cleaning the furniture, it is worth taking note and listening to the details given. The manufacturers know best and will give you instructions on general care and maintenance in the sofa cleaning process.
Some big furniture stores will also apply a good furniture protector to help make the cleaning of a spillage or stain a lot easier. Some of the furniture protectors such as the brand Scotchgard are wonderful for keeping upholstered material in excellent condition. It can make removing dirt a lot simpler. But, in addition to having these additional stain protections of your sofa there is some general rules that apply to keeping your sofa clean.
Regular cleaning of sofas
When it comes to sofa cleaning one of the best ways to keep dirt, pet hair and dust is to regularly vacuum the furniture. Use the small brushes that can get down the sides of the sofa and underneath the cushions. If you have a problem with cat or dog hair use a soft brush by hand first in circular movements which will remove a good proportion of the hair and them use the vacuum for the remainder. Also make sure you turn your cushions over every week.
Carpet
Cleaning

£7

Upholstery
Cleaning

£13

End of tenancy
cleaning

£80

Domestic
cleaning

£11

Regular
cleaning

£11

Office
cleaning

£11
Fluff them up and turning weekly will guarantee equal wear and tear, and prevent one side being used more than another and even prevent fading.
Extra upholstery cleaning tips
Upholstery needs regular care and attention and it is a good idea to make sure you buy a detergent that is suitable for that extra clean or if you happen to spill food or drink on the material. The store you buy it from should be able to help advice and offer you specific cleaning products that are suitable for your specific fabric. Other than that general DIY shops have a wide selection of products. It is a good idea to test out a part that is not on show maybe underneath or at the back just to make sure it doesn't damage or fade the material. If you have instructions you should have the description of what the material is made form so to be safe check this first and then this will help when buying cleaning agents for the upholstered furniture.
Other solutions for upholstery cleaning
Most upholstery doesn't stand getting soaked with water so make sure you only use a damp cloth to clean a dirty mark or stain. General washing liquid is one of the best, and baking soda is a good all purpose cleaning agent.
Help with bigger stains
There are many solutions for sorting a larger area. Check if they are suitable for a washing machine, and place all of the covers in the machine but follow the instructions for washing and set to what it suggests. Nowadays it is possible to hire carpet cleaning equipment which can be cheaper than hiring the professional upholstery cleaners. The hire center will help with the demonstration of the cleaning.
These work well and will do the job just like the experts would do.