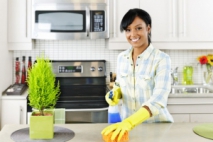 Scheduling Your Cleaning Properly
Knowing exactly how to get your cleaning done in a way that won't leave you stressed and pushed for time can be difficult.
For this reason, it is a good idea to take a minute to give the scheduling of your domestic cleaning a decent bit of thought, that will reduce the likelihood of any misgiving in terms of wasting time, or not getting things done in an efficient manner. You should be aware of the different processes that need to be sorted in order for the house cleaning to be effective, but the fact is that doing all of these in a way that will reduce the time and effort that you have to put in is not as easy as it may seem. Be sure to make your home cleaning make sense with your day to day, and you have a much better chance of ensuring that it does not get in the way, or take up your valuable free time! For a start, you need to work out the jobs that need doing more often than others. In the kitchen and the bathroom, dirt can accumulate quickly, simply because of the uses of these rooms. In the kitchen cleaning, you will be getting rid of food mess and grease form cooking, and that will usually have to happen every time you have finished cooking. Be sure to do this well every time, and you will not have to dedicate much time to actually cleaning the kitchen as a job separate form cooking. It is wise that you clean out the cupboards and the shelves every few weeks however, as these areas can get dusty, and if not sorted for a long time, the dust can mix with grease that settles form cooking, making it very difficult to clean up. When you are dealing with the bathroom, it is best to give it a quick clean every week, rather than having to spend ages on it every couple.
Carpet
Cleaning

£7

Upholstery
Cleaning

£13

End of tenancy
cleaning

£80

Domestic
cleaning

£11

Regular
cleaning

£11

Office
cleaning

£11
The dirt that builds up over the week will rarely be enough to make the job more than a wipe down of the white surfaces, and a cleaning up of bottles that have spilt. If you leave it longer, then you may have to deal with soap scum, and even limescale on the taps. Try dividing these jobs up, so that they can be fit in and around your life, rather than taking it over. If you can do the more regular jobs more often, then the amount of dirt that will build up will not be too much, and the job will take no time at all. If you are separating these jobs out, and they only take ten minutes or so at a time, then you can find places throughout the week to get them done, rather than having to dedicate time at the weekend to them, which can be a pain and really get in the way of relaxing. There will be moments before and after work where you can do these sorts of things, like a quick vacuum of the living room before you leave, to keep the carpet cleaning at bay.
Perhaps give the bathroom a wipe down when you get in from work as it will only take ten minutes with a cloth and some cleaning fluid, and then it is done for the rest of the week! Getting rid of stains as soon as they happen, whether in the case of carpet or upholstery cleaning will keep the need for professional cleaners at bay as well.