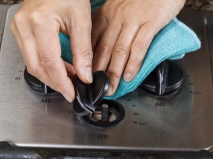 Organising Your End Of Lease Clean
If you're worrying about your end of lease cleaning then these tips can offer you the help and support that you need! End of tenancy cleaning doesn't have to be a huge problem, all you need to do is tackle it in the right way! Have a read of this guide and you can have the easy and stress-free end of lease clean that you deserve!1) Downsizing and packing.Before you think about your end of tenancy clean you should have already begun the packing process.
Packing means that there'll be fewer items for you to have to clean around and underneath, and it will make the job much easier for you. Hopefully you'll already have begun downsizing your belongings too. Sell or donate items that are in good condition while the rest can be thrown away. The fewer items you have, the easier both your end of tenancy clean and your move will be! 2) Making a schedule.It's going to be a much easier process for you if you make weekly schedules until your moving day. Purchase or make a calendar on which you can write your daily schedule. Include things such as family time, school runs, work obligations, social obligations and any other day-to-day activities. Once you're done you'll have an idea of how much time you can devote to both packing and cleaning. Set yourself realistic goals and try to do some cleaning every day, especially in the week leading up to your move.
Carpet
Cleaning

£7

Upholstery
Cleaning

£13

End of tenancy
cleaning

£80

Domestic
cleaning

£11

Regular
cleaning

£11

Office
cleaning

£11
The job will be much easier if you've started in advance, so be aware of your schedule! 3) Enlisting the help that you need.There are lots of people who can help you with your end of tenancy clean. If you're moving with children then try giving them small and easy cleaning tasks, such as cleaning their bedroom, so that you'll have a little less to worry about. The stress of your end of lease clean shouldn't fall all on you, so ask your family and friends for a little help if you feel overwhelmed! If your schedule is too busy with work and packing to find the time for cleaning then why not hire professional help? End of tenancy cleaners can provide you with a thorough and speedy clean which can be fantastic for you if you're short on time or energy! If hiring help isn't for you then you might be interested in hiring the right equipment. Carpet cleaners will make your home look fresh and clean, while steam cleaners can make quick work of bathrooms, kitchens and more! Hire the right apparatus and you won't need to worry about your end of tenancy clean! 4) Making a to-do list.Now that you have everything that you need to get started you just need to make a list of the jobs that need doing. Go through each room of your house and consider what will need completing before adding it to the list. Don't forget small jobs such as dusting your picture rails and cleaning your oven, especially if you live in a rented home, as an improper clean could affect you getting your deposit returned.
Once you start cleaning you'll know exactly where to start and where to finish without having to worry about forgetting anything, so this is a fantastic step that shouldn't be missed if you want an organised and easy end of tenancy clean!