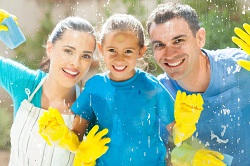 The Benefits of Steam Cleaning your Home
If you are trying to tackle the cleaning in your home, and you are struggling to keep on top of it, then you are probably trying to find ways to make your life easier.
There are actually quite a few different things that you can do. One of the things that you might want to do is to invest in a steam cleaner. What many people may not be aware of is just how many different benefits that there actually are, when it comes to steam cleaning. The good thing is that steam cleaners are actually highly affordable these days, and they are very easy to use. If you want to make sure that your home is completely clean, without having to put in a lot of hard work, then you should definitely consider investing in one. In order to give you a better idea of what you should expect from a steam cleaner, and why you should buy one, here are some of the benefits that come with steam cleaning your home. Steam cleaners are great for killing bacteria – One of the things that many people will be unaware of is the fact that steam cleaners are able to kill a huge amount of bacteria in the home. We have all seen the health warnings that tell us that bacteria lurks everywhere in the home, and unfortunately, this is true. Bacteria can be found on every single surface in your home, from the bathroom to the kitchen and every room in between. It can be very hard to keep on top of the cleaning enough to get rid of all of this bacteria. However, by investing in a steam cleaner, you are able to make sure that there is no nasty bacteria lurking around the home, which is much safer for your health, and that of your family's.
Carpet
Cleaning

£7

Upholstery
Cleaning

£13

End of tenancy
cleaning

£80

Domestic
cleaning

£11

Regular
cleaning

£11

Office
cleaning

£11
It can drastically cut down your cleaning time – One of the biggest advantages that comes with using a steam cleaner for cleaning your home is that it can drastically cut down the amount of time that it takes to carry out the entire process. All you have to do, once you have done a thorough deep clean in the first place, is to simply sweep all of the surfaces in your home in order to get rid of all of the bacteria in your home. If you were to simply do it on your own, without the aid of a steam cleaner, it would take an awful lot longer to complete. If you were to purchase a steam cleaner, however, it will take you no time at all. This is great if you are short of time. You can use them on carpets – Another great thing about using a steam cleaner in the home is that you can actually use them on carpeted surfaces as well. This means that you can kill all of the bacteria that may be lurking in the carpets which will take you very little time indeed. If you are going to do this, however, then it is a very good idea to make sure that you vacuum thoroughly first to make sure that you are not going to create even more mess by steam cleaning dust particles. These advantages are great. If you want to make the cleaning in your home easier and more thorough, then you should definitely consider purchasing a steam cleaner.
They are affordable, easy to use, and highly effective.